Joya shoes support the natural rolling motion while walking, therefore encourage healthy walking and standing
Joya shoes are made for supporting the natural motion process and encourage a healthy way of moving. That trains on one hand the muscular system, on the other, relieves the foot and leg joints, as well as the back. As a result, Joya shoes contribute to a wellbeing with every step.
This does not only satisfy our customers, but physicians and physiotherapists as well. Moreover, Joya shoes are recommended by the "Forum Healthy Back – Better Living e. V." and the Federal Association of German Back Schools
Noticeable shock absorption based on swiss sole technology
The soft-elastic polyurethane foam of the Joya sole adapts the shape of the foot individually and operates supportive. In addition, arising percussions will be reduced while treading, which leads to easing of back, feet and joints.
Recommended by the association AGR e. V.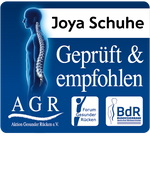 The association AGR e. V. recommends Joya as a particularly back-friendly shoe. Certified and recommended by Association Forum Healthy Back – Better Living and Federal Association of German Back Schools. More information: AGR e. V., Stader Straße 6, D-27432 Bremervörde.
Increased muscle activity, due to the soft-elastic sole of Joya shoes
The elastic Joya sole ensures that you never stand still entirely. Thereby, important muscles of the back, as well as the feet are activated automatically, and the posture is dramatically improved.
Optimum pressure distribution and a natural rolling motion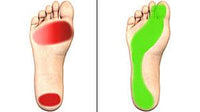 Furthermore, Joya shoes boost a natural rolling motion, as well as an optimum pressure distribution. In conclusion, the natural motion process is supported and active walking encouraged.
Joya shoes: Bliss for your back
The positive effects of Joya shoes for the body – increased muscle activity, shock absorption as well as an optimization of the foot's pressure distribution and its natural rolling motion - encourage healthy walking and standing. Gradually, this leads from an improvement of your posture, through to a relief of the back as well as the joints, which contribute to prevention or easing of corresponding pains.
To enable the best possible experience with Joya along the way, we exclusively are using premium-quality materials for our production, manufactured with reliable swiss tradition Know-How.
Discover the diversity of the Joya collection: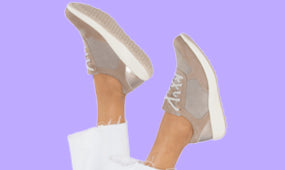 WOMEN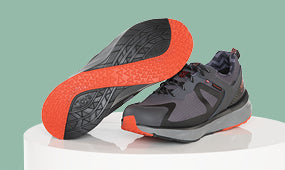 MEN
Joya shoes and the survey of the University Clinic Jena in Germany
How does the activity of the muscular system responds while wearing Joya shoes, in comparison to conventional footgear and barefoot walking? The University Clinic in Jena determined promising results.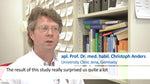 Survey © 2018 by University Clinic Jena, Germany